WESTBORO PARTNERS ANNOUNCES MERGER TO MEET EXPANSION & GROWTH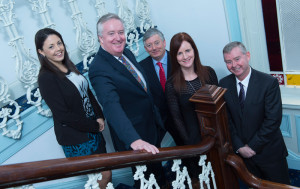 Westboro Partners and Baxter & Associates to Merge to form 'super' advisory firm for business in Munster.
The new 'super' firm will trade as Westboro Partners and will employ over 30 people providing financial and business advisory services to SMEs and the multinational sector in Munster.
Speaking at the merger announcement, Managing Director of Westboro Partners John O'Sullivan said: "We are delighted to announce that Baxter & Associates is to merge with Westboro Partners. Baxter & Associates has a long-standing reputation for excellence with specialised knowledge of the fishing industry. Our merger will consolidate the experience, knowledge and resources of both firms. Many of our clients have an increasing desire for service and sector specialists and this merger will provide easy access to that expertise."
The Cork city based firm, Baxter & Associates, is a well established practice with over 30 years experience. The firm, which has a number of specialist services including the fishing and agribusiness sector, makes an ideal fit with Westboro Partners who work across sectors as diverse as health and pharma, nursing homes, engineering, marine, hospitality, professional services, construction and development.
"This merger will consolidate the two firms as one of the top accountancy practices in Munster. The new combined firm will bring many years of experience to the table and provide a wider and enhanced array of services to all clients while creating huge development opportunities for staff," said Ciaran Baxter, Baxter & Associates.
Post-merger all activities of the newly formed practice will operate from the offices of Westboro Partners in Montenotte, Cork with all staff located in this premises.